Shopping Cart
Your Cart is Empty
There was an error with PayPal
Click here to try again
Thank you for your business!
You should be receiving an order confirmation from Paypal shortly.
Exit Shopping Cart
So i was challenged by one of my clients to go to #McDonalds and get breakfast that fell within the parameters of our #21DayWillpowerchallenge....after i told him you can find the proper foods anywhere you go out to eat.....
My Analysis: JUST DON'T
Of all their breakfast menu items, their "round eggs" and bacon and black coffee are the only things you can have. You could order the sausage or ham as well as alternatives. And apple slices to boot!
They clearly have a sign posted saying they cook everything with dairy/milk and butter. So i had to request these eggs be cooked on vegetable oil not butter. Even their scrambled eggs had milk in them, so that scratched having their breakfast burritos (as wraps are allowed on this first challenge)
4 eggs two slices of bacon and a black coffee = $7.54 = not worth the trouble nor worth testing your resolve and commitment to this challenge.
With the time spent waiting in line, ordering, and waiting for your food, you could've had a much more appealing breakfast at home for around a dollar.
#yofityolife #personaltrainer #coach #icangetyouthere
#ifyocanyoucan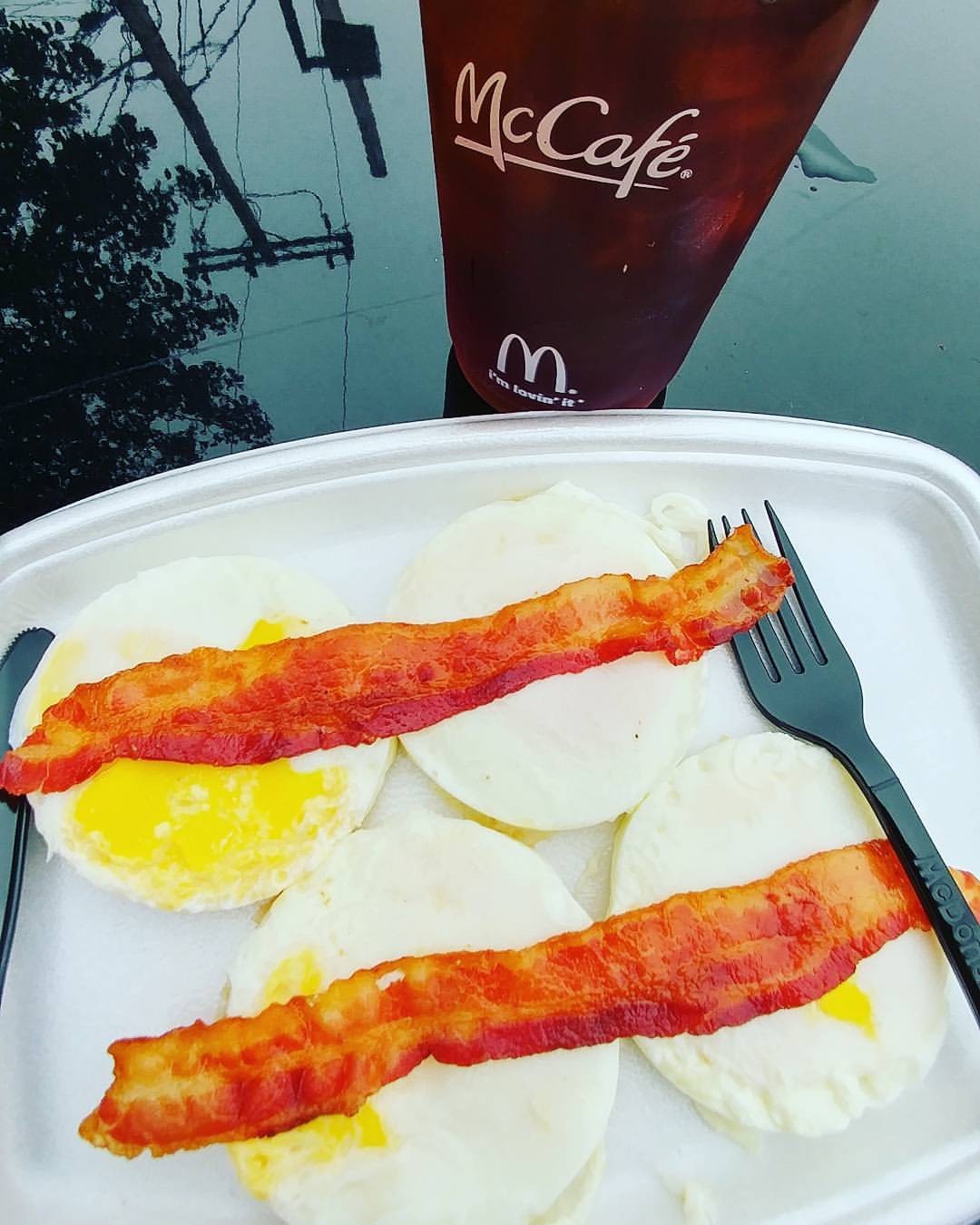 Our WillPOWERCHALLENGE returns! Starting Monday May 15th!
I can't keep calling it our 21DayWillPowerChallenge because, well, how many days we're doing it for changes for our specific current goals. 
If you follow me on Instagram or Facebook you know that if you click on the hashtag: #21daywillpowerchallenge, you will be connected to all my previous posts and meals and updates from all our previous challenges.
All the rules stay the same. Read below in my other blog entry about the entirety of what the 21daywillpowerchallenge is. what it is and why you're doing it is important.
OBVIOUSLY we are doing this round to cut a lot of fat, lean up,  and get all sexy and shit for Summer!
I've marked the official 1st day of Summer as June 22nd which gives us, starting the 15th, 35 days till Summer!  but who stops in the middle of the week in the middle of a month? You all will probably go through till the last weekend of June or "4th of July weekend".
Stay tuned for more updates,  but in the meantime, please go on to read my previous blog post about this Challenge and all the rules.
Best
-YO Personal Trainer
Philosophy behind 21DWPC
After 13 years as a Master Trainer, All my clients, and anyone who knows me, knows that I do not believe in cold-turkey dieting. I always teach "anything in moderation" "work hard to eat hard" "earn your calories, burn your calories."
But what happens when you start seeing yourself take these methods to nutrition a little too relaxed and one cheat meal becomes 2,3,4,5…and you haven't caught up with your exercise and calorie expenditure/burn. The calories start adding up and what was a 400 calorie snack has now krept up to 40,000 extra calories you haven't burned off? (Which btw is about 11-12lbs-3500kcal= 1lbs)
Psychologically, sometimes we then give up on our "Earn our calories, burn our calories" philosophy. We then do what we can to catch up and if we don't, well, we chalk it up to 'Living Life'.
All of a sudden 'Living Life' has gripped you and swallowed you whole and has you walking around and feeling the heaviest you've ever been in your life. or at least unable to make changes to your body you desire.
Sometimes you need to give your mind, your bad habits, your body, a super charged jolt of reality--A SUPER CHARGED JOLT OF 'NO'.
I am challenging you, for 3 weeks of 'NO'. Just 21 days, to eliminate cold turkey, all these things that add unnecessary calories into your bodies.
.....
Please go to the Registration tab to learn more about your options in losing body fat, body weight, food addictions, and resetting your nutrition lifestyle.
Ok So how bloated/fat/gross and out of control do you feel after this Thanksgiving weekend??!
I'm right there with you!
So Here we start our next Challenge! If you have done the 21DayWillPowerChallenge before, besides some changes on how you go about it around the Holiday parties, it's the same exact as before. Same rules apply with the NO's to eliminate and what you "allowed" foods are.
So I don't waste everyone's time I won't post the philosophy and principles behind this challenge, you can just go to my website: www.yofityolife.com and read it on your own. You can find it under the "Y0's Blog" Tab.
I highly recommend you all go and do that now just to freshen up on WHY you are doing this challenge. This isn't a get in shape quick and then get fat quicker diet plan. This is to help you break bad habits, form good ones and create a new healthy eating lifestyle beyond these challenges. Some of the rules I have about this are more to play on your psychology around food and what you do to yourselves day in and day out. This is to fix your bad eating habits and be a healthier, happier you. The Weight and fat loss are just bonus.
THE ADD-ONS for The Holiday Season Challenge: 7ish commandments:
~~1. We are going for 28 days. Not 21 days. I will keep the hashtag #21DayWillPowerChallenge and #NutritionReset on Facebook and Instagram, just so you can click on it and be connected to all my posts from the past challenges that include tips and meals and motivation. Check that hashtag out, see how it works, click on it. It's a novel trick.
~~2. Weigh-in. Get your body fat % measured. Take before and after pics. If you would like I can measure your Body Fat % quickly with the electric hand held monitor at the gym. Or your gym should have this tool if you ask. If you're one of my PT clients, we will do the skin fold calipers this week.
~~3. You are allowed ONE CHEAT MEAL per weekend. this is not a "cheat DAY". This is not a open door to stuff yourself silly with the shit we are trying to eliminate. Moderation! This is keeping a realistic view of what December is. It is The holiday party month. This is so you can plan for your weekend and have your Holiday dinners or desserts on one day/ meal/ party a week. Thats realistic and reasonable. You can still have your cookie party, and your eggnog, and mom's best dessert, and granny's gingerbread cookies. You can still go to every single one of your parties but you can only eat any "NO's" at one. More power to you if you can do without the Cheat meal.
~~4. You have to earn this "cheat meal" by doing these set of exercises EVERY DAY. I will change the exercise challenge for variety or you can do the same challenge all 30 days. This is ON TOP of what you already do at the gym and for your workouts. So if you can't get to the gym, you still have to do these at home!
the first list of exercises you have to do EVERY DAY are:
X200 jumping jacks
x200 Bodyweight Squats
x50 Pushups
x80 Situps/crunches or any ab exercise you can think of
X4 minute plank
**You can break these up into how ever many sets/reps you want in a 24 hr period. example: 200 squats= 50 squats 4 x a day
**If you need to make modifications to these exercises due to injuries or ailments please let me know so I can help you figure out what to do instead.
That's it.
5. We technically start Tuesday December 4th and go to December 31st. Considering that I love to spring these things last minute on you, you can start on the 5th and go to the 31st. Actually you can start whenever you damn well please and just go till the end of the month. Just do it.
6. ASK ME QUESTIONS. POST ON MY WALL. GET INVOLVED SO THAT OTHERS CAN LEARN OR BE MOTIVATED AND INSPIRED BY YOU AS WELL.
7. CONNECT to us all…..USE THE HASHTAG #21DayWillPowerChallenge, #NutrtionReset
or #yofityolife, or #ifYOcanican, or #DoasYOsays or #YOmademedoit or #FMLYO
-Yo Personal Trainer
/